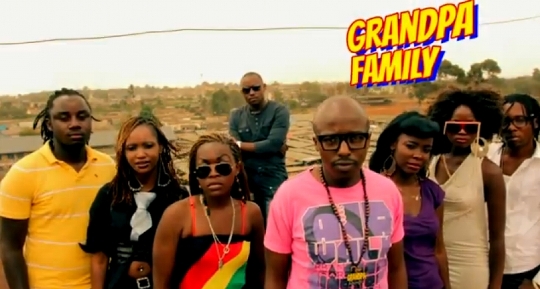 I just got this record today and with them releasing the video today simultaneously, it's only fair I show case it while it's still hot. When Dan sent me this record I knew what to expect from the track. Here is an excerpt of what I said before about Grandpa records, their sound, music and artists.
They've been on the grind by building their fan base by releasing various records and doing various shows and concerts across East Africa. In the process, they've also found and perfected their own sound and lane.
Fimbo ya Tatu features Wavinya , KenRazy , Visita , Lil Sliq , Renee , Wyre , Dufla Diligon , Sosuun , Chief Moses , U.B , Sauti Sol and although some of the artists just are on the chorus, them appearing on the video is a big testament to how 254 artists collabo and how they should be rocking together for the future.
Grandpa Records got another hit here
Listen to the song below:
Watch the video below:
---
In keeping with tradition, we premier this record that was released a few days ago. Grandpa Government has been feeding the streets with good quality street music and their latest record they presents Mapepo, the first ever solo project from the super producer/super rapper Visita.
Dj Ali Takkah perfectly describes this song. NOMA sanaaaaaa!!! am a dj na am so damn happy mixxing this song as ppeole yell with just the introduction….tulifanya harusi jana naleo tushakosana hayo ni …………………. they finish up HAYO NI MAPEPOOOO!!! visita we mkare aisee!!!

This is a banger!!!!!
We have the instrumentals and vocals on our servers for all the djs out there.
Shout out to Dj Dan Mixa for the hooks ups.
[Download the track here: RIGHT CLICK AND SAVE AS]
Watch the video below:
---