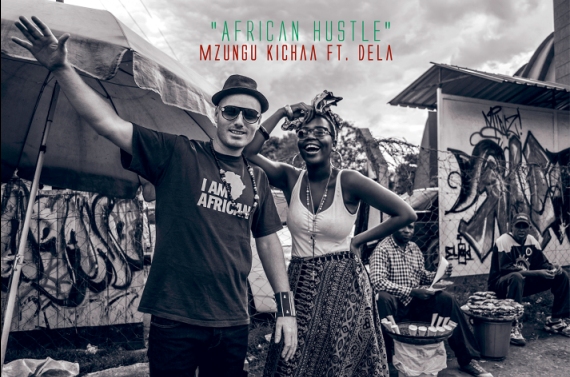 Born in Denmark and raised in Tanzania, Espen Sorensen better known as Mzungu Kichaa finds himself once again on the GetMziki pages with his brand new single African Hustle. He's one of the few artists who's definitely hustling the African way and releasing great dope records.
Mzungu Kichaa releases a new song featuring Kenyan artist Dela. The song is the first single from his EP titled "Hustle" to be released on the 1st of December. "African Hustle" is a positive message about working hard with what you have. This is Mzungu Kichaa's first release since the release of his debut album in 2009, which won him an award at the African Achievement Awards. Since the release of his first album "Tuko Pamoja", Mzungu Kichaa has been performing extensively in East Africa and met Dela during a visit to Nairobi. He later invited Dela to Dar es Salaam to perform at The Beat Festival, during which they recorded "African Hustle" at his studio Caravan Records. The collaboration marks an important step to build relationships between artists across the borders and to create a stronger East African music industry.
Dela and Mzungu Kichaa are shooting a video for the song in Nairobi, to be released on the 15th of November 2012.
Assisting on the guest tip, Kenyan Dela completes the track which kind of reminds me of some old laid back film soundtrack. It's a dope record that will be getting a five star rating on my playlist.
Listen to the track below:
[audio:http://getmziki.s3.amazonaws.com/Mzungu_Kichaa_ft_Dela_African_Hustle.mp3]
Click HERE to Download the track (RIGHT CLICK AND SAVE AS)