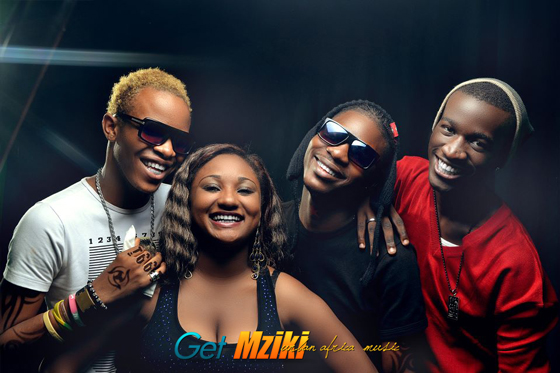 Pah One is a music outfit representing Tanzania. I've been bumping to their music for close to one year but have never really had the urge to showcase them for a number of reasons. One, is that people would think I was trying to push the group and two is that I wanted to see if they were a "passing" cloud or not. The past one year has seen them moving from their local showcases to a wider audience.
Pah One is a music group from Tanzania which makes different genres of music, that is from hiphop to pop, rap and so much more. Pah one which has 4 members Igwee Damas who is a rapper, writer and dancer. Also known as the inviting point of the group. Ola More Karisma who is a rapper, singer and songwritter but also well known as the dancer and the perfomer. Nah reel Mkono who is a great music producer and won many hip hop artists music awards in Tanzania,he is also the major producer of the group,song writer, singer and rapper. Aika Calvin Marealle who is the only lady in the group with an amazing voice, she is a singer, song writter and also a rapper.This group comprises of great talents and we believe they will reach destinations just to present their talents and specially their country.
One thing I love about the group is that they can combine pop, rap, techno or dancehall whether it's in their choice of beats or lyrics and flow seamlessly. They've also created their own lane which is unprecedented and rarely seen in Tanzania. They are the group that will be doing amazing things in 2013. Pah one are still on that journey but the records they have will definitely make the doubters become believers.
Listen to Ghetto below:
[audio:http://getmziki.s3.amazonaws.com/Pah One-Pah One – Ghetto.mp3]
Click HERE to Download the track (RIGHT CLICK AND SAVE AS)
Listen to I wanna Get Paid Ft Shrekeezy below:
[audio:http://getmziki.s3.amazonaws.com/Pah One-I wanna Get Paid Ft Shrekeezy.mp3]
Click HERE to Download the track (RIGHT CLICK AND SAVE AS)